As 2023 draws a close, it provides us with an invaluable opportunity to reflect on the outstanding charitable events undertaken by our employees, aimed at raising funds for noble causes for organizations like Railway Children, Cancer Research, and MacMillan
At Advance TRS, our Founder and Managing Director, Andy Ridout has consistently provided support and motivation to the team, urging them to embrace personal challenges, step out of their comfort zones, and contribute to charitable causes by raising funds. This year saw our team participate in 6 charity events.
Three Peaks by Rail
In 2023 the first charity event our employees participated in was the Three Peaks by Rail. On the 15th June, the Advance team of Louise, Tom, Jake, and Sam embarked on an enduring 3-day mountain challenge. This tested various physical and mental; attributes including endurance, mental resilience, and physical fitness.
Our commitment to supporting Railway Children has been longstanding. This organization is dedicated to aiding vulnerable children living on the streets. Through our efforts, we were able to raise an impressive £4,000 for this cause.
Pretty Muddy Challenge
In June, the women of the Guildford office participated in the "Pretty Muddy Challenge" to demonstrate their unwavering support for Cancer Research.
This event served as a significant platform to showcase their dedication and determination to effect positive change in the lives of cancer patients and their families. Upon the finish line, they not only commemorated their individual achievements but also acknowledged the collective impact of their efforts. Our collective fundraising efforts resulted in an impressive donation of £600 to support Cancer Research.
Advance TRS Golf Day for Rail Aid
In September we had the return of our annual Golf Day for Rail Aid. This year's golf day was at Celtic Manor. The event boosted participation from a total of 18 fourballs.
With outstanding prizes to win, complemented by a wide selection of amazing experiences in our auction. We raised a magnificent £14,000 for a great cause. Added to the previous year's totals, we are immensely proud to announce that Advance TRS Golf Day for Rail Aid has now raised a total of £57,395 benefiting underprivileged children in the UK, Africa, and India.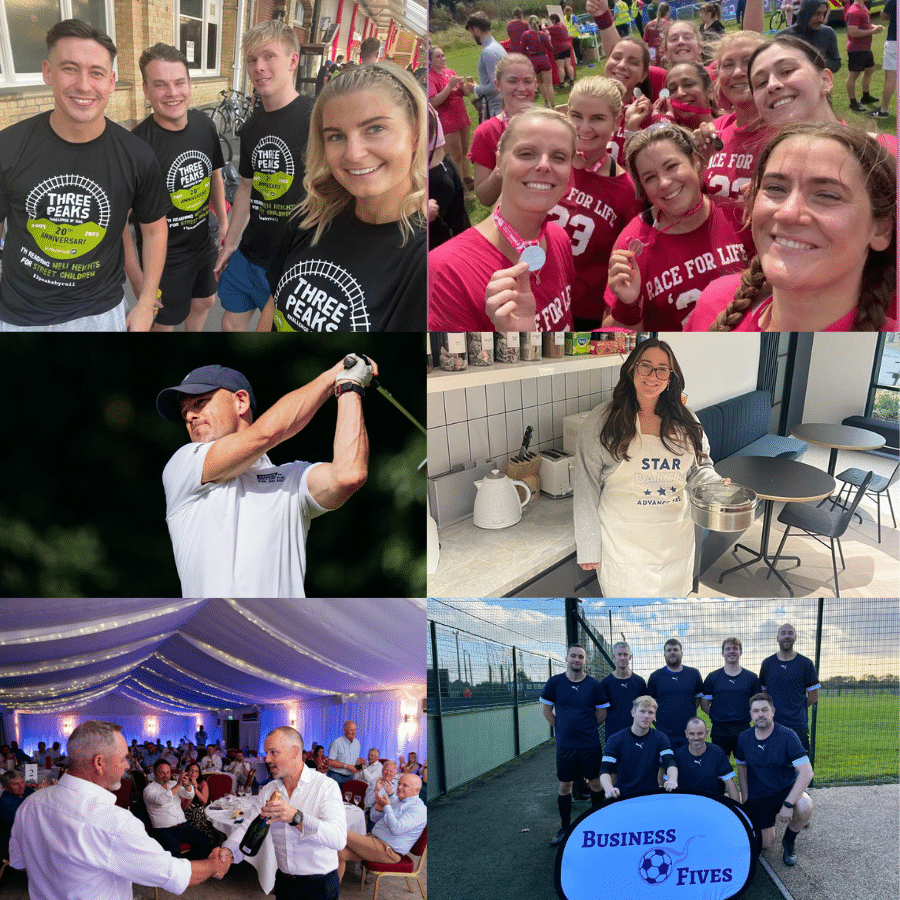 Macmillan Coffee Morning
In October we held a coffee morning in support of Macmillan Cancer Support. This event saw a bake-off competition come to the Guildford office, with Lily taking home star baker for her exceptional blondies. This was a great opportunity to have some run and raise some money for Macmillan.
Business Fives
This November the Advance TRS team represented by the boys, has joined the 5-a-side football competition organized by Business Fives. The participation is not just about scoring goals, it is about making a meaningful impact.
They are proud to be supporting the Little Roo Neonatal Fund, a charity that holds a special place in our managing director Andy's heart and is dedicated to providing crucial support to the Neonatal care unit at St Peter's Hospital in Chertsey, Surrey.
Their dedication has been shown through having raised an incredible £220 for this noble cause.
Still to come this year…
Christmas Jumper Day
To conclude an extraordinary year of charity events, we are wrapping it up with a festive touch. Christmas Jumper Day. On December 14th, our entire team across all offices will be wearing their most cheerful Christmas jumpers, all in support of the wonderful cause of Save the Children.
This year we take immense pride in our remarkable contribution to numerous charitable causes, making a significant impact by raising a staggering sum of £18,855 Our dedication has left an indelible mark on the lives of those in need.
Join the team
Are you eager to be part of a business that not only thrives on success but also believes in giving back it its community? Then check out our Work for Us page now.